If you're not sure what you need to do to improve your EPC rating, Focus 360 Energy offer a wide range of energy assessment services to improve your
property's epc rating
Understand what an EPC is and how it's used
As the cost of living in Britain reaches unprecedented levels, households are feeling the pinch. With energy prices soaring, it's no wonder that more and more people are concerned about their finances. However, there is an easy and effective way to reduce your energy bills – improving the EPC rating of your property. This means making it more energy efficient so that less heat and electricity are wasted, which ultimately leads to a decrease in what you have to pay for them.
We've got the knowledge and experience to help you enhance your property's energy efficiency rating. Check out our list of simple steps you can take to start making a difference today!
An EPC, or Energy Performance Certificate, is a document that details the energy performance of a property. The certificate is required by law whenever a property is built, sold, or rented, and must be displayed in an obvious place for potential buyers or tenants to see. The certificate contains two ratings: an energy efficiency rating and an environmental impact rating.
How are EPCs graded?
EPCs are graded on a scale from A-G, with A being the most energy-efficient and G being the least energy-efficient. The grades are based on the energy performance of the property, its heating and hot water systems, as well as its insulation.
Will having an EPC save me money on my energy bills?
Yes, having an Energy Performance Certificate (EPC) can save you money on your energy bills. The EPC provides information about the energy efficiency of a property and suggests ways in which energy efficiency can be improved. This can lead to lower energy bills and greater comfort in your home.
How can I find out what my EPC rating is?
Your EPC rating can be found on your Energy Performance Certificate (EPC). This certificate should be provided when you bought or rented the property, or when you had an energy assessment. If you don't have the certificate, you can contact your local authority or an Focus 360 Energy to arrange an assessment and obtain a new EPC.
Different factors that can affect your EPC
There are a number of different factors that can affect your EPC rating. For example, the type of property you have, its age, your loft insulation or cavity wall insulation, and the energy efficiency of its heating and lighting systems. Focus 360 Energy can help you to understand what might be affecting your property's EPC rating and how you can improve it.
We offer a range of energy assessment services to improve your epc rating, including residential and commercial EPCs, SAP Calculations, SBEM Calculations, Display Energy Certificates, Electrical condition inspection reports and thermographic surveys all designed to help improve your ECP rating.
We can also provide advice on measures you can take to improve your epc rating and reduce your carbon footprint and ultimately reduce your energy bills.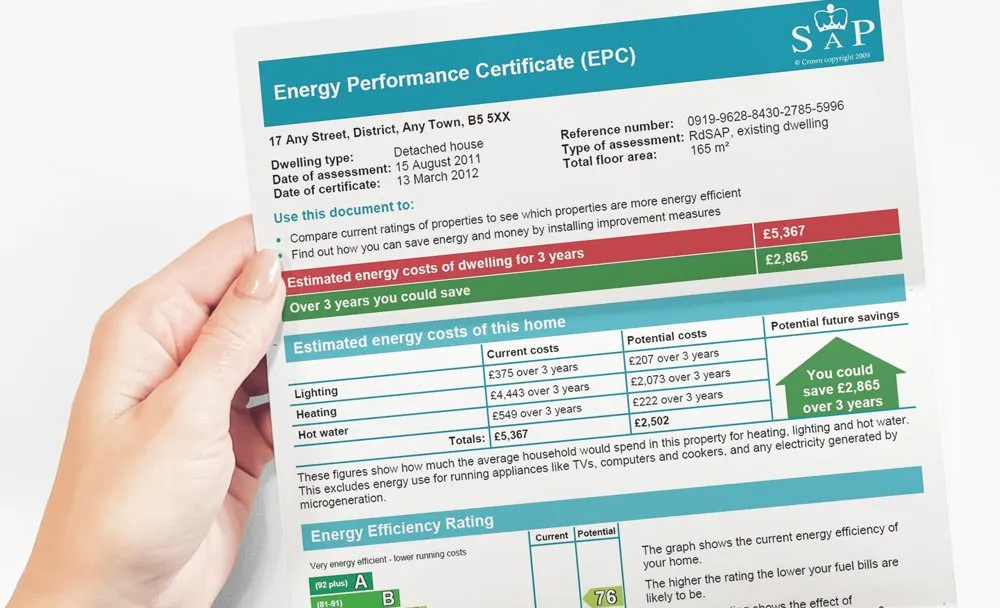 Top tips to making your home more energy efficient
This will help you understand how energy efficient your home is and what improvements you can make to reduce your energy consumption. Some suggestions may be:
Install energy efficient appliances to improve your epc rating.
This can help you save up to 30% on your energy bill each year. Take control of your energy bill this year and reap the rewards! By installing a new boiler, you could see your Energy Performance Certificate rating rise by up to 40 points. Even if you don't make any other changes, reaching the minimum EPC rating of 39 will help you reach compliance standards.
Use LED light bulbs.
If you're looking for an effective and budget-friendly way to boost your home's energy efficiency, consider switching out your older halogen or incandescent light bulbs with LED lighting. LEDs have seen a surge in popularity due to their powerful combination of energy savings and long-term cost effectiveness, so why not take advantage of these benefits today?
Insulate your home and loft.

Insulating your home and loft will make it more comfortable, so you'll feel the benefits all year round! You'll not only enjoy a warmer winter, but also a cooler summer with less energy bills to worry about. What's more, installing 270mm or more of loft insulation can reduce how much heat escapes through the roof by an impressive 33% – making it a wise choice for your energy efficiency measures. For cavity walls which are found in many UK homes, cavity insulation is typically the most cost-effective option available. According to average prices, you could be looking at a relatively small investment that could generate huge savings in the long run – sounds like a win-win situation! averaging around £370–£500 for your average home.

Seal any gaps or cracks around doors and windows to prevent drafts from coming in.
Stay comfortable in your home and keep energy costs low by weather stripping around doors and windows to prevent drafts. Maximize efficiency with storm windows or double-paned varieties, which reduce heat loss. Window treatments such as curtains or blinds help to keep the warm air in. Insulating attics and walls further reduces heat loss. Upgrade old, worn-out doors for energy-efficient versions – you won't regret it! Make sure to check and replace furnace filters regularly for optimal performance. Installing a programmable thermostat is another great way to reduce energy usage, while having your HVAC system serviced helps ensure that it runs efficiently.
Set your thermostat to a lower temperature in the winter and a higher temperature in the summer to save on heating and cooling costs.
Upgrade any glazing
Many homes these days already have double glazed windows, however this may not be true of older properties. Replacing old single-glazed windows with modern double-glazing could improve your property's EPC score by up to 10 points – although this usually comes at a cost of between £2,000 and £5,000 for a typical terraced house.
Frequently Asked Questions
How do I improve my property's EPC rating?
Here are some things you can do to improve EPC ratings:
Increase your energy efficiency through insulation, double glazing, draught-proofing, and using the most energy-efficient appliances.
Use renewable energy sources such as solar panels and wind turbines.
Upgrade to an energy efficient heating and cooling system.
Upgrade your lighting system for example replace outdated lighting fixtures with more energy-efficient options such as LED or install dimming systems.
Make sure your home is properly ventilated.
Use energy-saving settings on your appliances
Install a programmable thermostat to better manage energy use.
Use low-flow showerheads and faucets to reduce water consumption.
Consider adding solar panels or other renewable energy sources.
Use Energy Star certified products whenever possible.
Educate yourself on energy efficient practices and how to reduce your energy consumption

Install double or triple glazed windows

Makes sure your

loft insulation is the correct depth and specification
How do I improve my Commercial EPC rating?
1. Improve the insulation of the building envelope.
2. Increase the efficiency of the heating system.
3. Install energy efficient lighting.
4. Install renewable energy systems, such as solar panels.
5. Install energy efficient appliances.
6. Increase air tightness.
7. Reduce water consumption.
8. Upgrade the building fabric and services.
Does underfloor heating improve EPC rating?
Underfloor heating can improve your Energy Performance Certificate (EPC) rating. It is one of the best ways to reduce energy consumption and increase energy efficiency. The installation of underfloor heating can reduce your energy use by up to 30% and can result in a lower EPC rating.
Do solar panels improve EPC?
Yes, solar panels can improve the Energy Performance Certificate (EPC) of a property. Solar panels are an energy efficient technology that generate electricity from natural sunlight, and can reduce the amount of energy consumed from the main grid. This in turn reduces the amount of energy required to heat, light and power the property, which can lead to a higher EPC rating.
What are EPC improvement grants?
EPC improvement grants are government grants that are available to UK property owners, landlords and tenants to fund energy efficiency improvements to their properties. The grants are intended to help households reduce their energy bills and make their homes warmer. Improvements may include insulation, double glazing, new boilers and more.
Does a smart meter improve your EPC rating?
Yes, a smart meter can improve the Energy Performance Certificate (EPC) rating of a property. Smart meters provide accurate and timely data on energy usage, allowing households to track their energy use and take steps to reduce it. This can lead to a reduction in energy bills, as well as an improvement in the EPC rating.
How to improve EPC rating in a flat
Increase Insulation: Adding insulation to your flat can significantly improve your Energy Performance Certificate rating. Make sure to check for any drafts or gaps around the edges of your walls, ceilings, and floors and fill in any gaps with insulation.
Replace Old Appliances: Old appliances are often inefficient and can significantly reduce your EPC rating. Replacing old appliances with A-rated or higher appliances can help to improve your EPC rating.
Change Your Lighting: Replacing traditional lightbulbs with energy-efficient LEDs can help to reduce your energy consumption and improve your EPC rating.
As a Landlord, what EPC advice can you give me?
Make sure that you have the right paperwork and contracts in place for any works that you are having done, as well as a comprehensive record of the works that have been carried out.
Make sure that you have an EPC Certificate in place to show that your property meets the required standards before putting it on the rental market.
Make sure that you regularly check the condition of your property, both internally and externally, to ensure that it is safe and meets the required standards.
Make sure that you are aware of all relevant regulations that might apply to your property and the works that are being carried out.
Make sure that you are always up to date with the latest energy efficiency measures and regulations, as these can have a significant impact on the running costs of your property.
Make sure that you are aware of the relevant energy efficiency grants, schemes and incentives that are available, as these can help to reduce the costs of energy efficient improvements.
How to retrofit a house for energy efficiency
Here are some handy tips:
Inspect Your Home: Start by doing a thorough inspection of your home to determine what areas need to be improved. Look for places where air can escape and where insulation is lacking.
Install New Windows: Replacing your windows with energy-efficient models can help reduce heat loss and improve comfort.
Add Insulation: Adding insulation to your home can help reduce energy costs and improve comfort.
Seal Air Leaks: Sealing air leaks around windows, doors, and other places can help reduce energy costs.
Upgrade Your HVAC System: Replacing your old heating and air conditioning system with a newer, more energy-efficient model can help reduce energy costs.
Install Solar Panels: Installing solar panels can help reduce energy costs and provide renewable energy.
Replace Light Bulbs: Replacing incandescent light bulbs with LED or CFL bulbs can help reduce energy costs.
Install Smart Thermostats: Installing a smart thermostat can help you better control the temperature in your home and reduce energy costs.
What is an energy retrofit?
An energy retrofit is a process of making an existing building or home more energy efficient. This can involve replacing older appliances and equipment with newer, more efficient models, adding insulation and weather-stripping, and repairing or replacing windows and doors. An energy retrofit can also involve changing the heating, cooling, and ventilation systems to use less energy, installing solar panels, and other measures to reduce the building's energy consumption.
Why Choose Us?
Professional and reliable
Flexible appointments to suit you
Friendly, practical advice
10 years' experience in the industry
We work with you every step of the way
Affordable pricing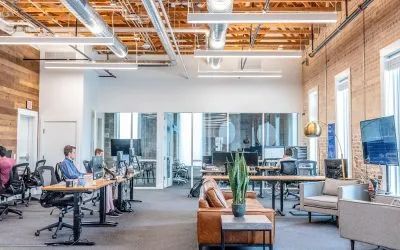 If you are a commercial property or owner, you may have asked yourself, "Do I need a Commercial EPC?" Many commercial buildings in the UK require an Energy Performance Certificate when it is constructed, sold or let. This EPC is displayed in a similar way to that of a...
read more