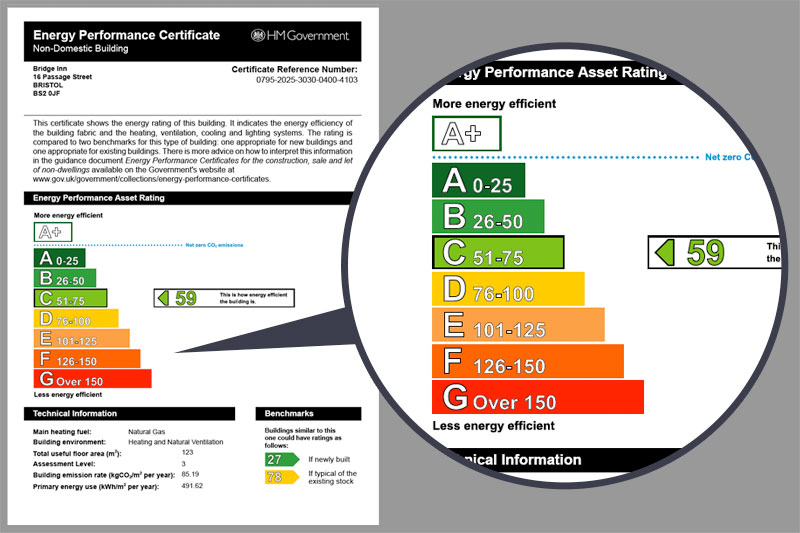 A Commercial EPC (Energy Performance Certificate) is required for every commercial building when it is constructed, sold or let. The EPC Certificate gives information about the energy efficiency of the building to owners, prospective buyers and tenants. Some buildings will be exempt from needing an EPC Certificate.  If you are unsure whether you need a Commercial EPC Certificate for your building, read our post 'Do I need a Commercial EPC?'.  In this post, we will discuss how your Commercial EPC is calculated.
How is a Commercial EPC calculated?
The energy rating of a building is a complex calculation which is based on a number of factors. These factors include:
the type of construction of the building (including walls, roofs, floors and glazing)
whether different parts (or zones) of the building are used for different purposes
heating, cooling, ventilation and hot water systems used
the lighting used throughout the building
An EPC Certificate displays the energy efficiency grade of a commercial building.
EPC Certificates are graded on a scale of A-G. The best result you can achieve is an A grade (most efficient) and the lowest being G (least efficient). The rating graph is similar to the labels you see attached to new appliances such as refrigerators and washing machines.
An 'A' result has a rating of 0-25. A zero-rating is defined as the performance of the building that has zero net annual CO2 emissions.
Landlords need to ensure that any rental property, whether commercial or residential, must have a minimum EPC Certificate rating of E.
A Commercial EPC Certificate must be produced by a qualified Non-Domestic Energy Assessor (NDEA).
How do I find a non-domestic energy assessor?
Commercial buildings are divided into three different categories, each with their own level of EPC: Level 3, 4 or 5.
The different levels are defined by the complexity of the building and the sophistication of the heating and ventilation systems.
Energy assessors will need to be qualified for the type of building being assessed.
Level 3
Small, simple buildings with 'frequently occurring characteristics'. These could include such things as the building fabric, simple heating systems less than 100kW, simple natural ventilation and small comfort cooling systems less than 12kW.
For example, these buildings could be small retail units or houses converted to commercial use. The energy assessor will use SBEM Calculations for this type of property.
Level 4
Purpose-built buildings with heating systems greater than 100kW, cooling systems greater than 12kW and any building without 'frequently occurring characteristics'.
All new buildings are likely to be classed as Level 4 or higher. The energy assessor will use SBEM Calculations for this type of property.
Level 5
This is for larger buildings that are complex in design or shape.
These may include buildings such as skyscrapers or shopping centres that have atriums, automatic blind control, ventilation with enhanced thermal coupling to structure, etc.
SBEM Calculations may not be sophisticated enough to provide an accurate assessment. The energy assessor will use DSM (Dynamic Simulation Modelling) for this type of property instead.
What information will the energy assessor need and how will my Commercial EPC be calculated?
A qualified Non-Domestic Energy Assessor will carry out the EPC survey. This will generally take approximately 1-2 hours to complete, depending on the complexity of the building.
To produce an Energy Performance Certificate, the energy assessor will need the following information:
whether the building is currently occupied or unoccupied
identification of the different zones of the building and their dimensions
the activities conducted within the zones. This could include retail space, office space, warehousing, storage, etc
the heating and ventilation services for each zone, including the type of system
the lighting and controls used for each zone
the construction of the fabric of the building, such as roof, floors, walls and glazing
number of EPC's required
for new builds or extensions, the Part L documentation confirming u-values
When the EPC survey has been completed, your energy performance will be calculated and an EPC Certificate will be produced.
The EPC Certificate will be published to the government register within 24-48 hours of the energy assessor leaving the premises. A copy will also be sent directly to you via email.
The EPC Certificate will also contain recommendations on how you can improve your Commercial EPC rating.