Our 3D virtual tours are created using Matterport's pioneering 3D scanning technology. Never has it been possible before to fully immerse yourself into a space and provide such an accurate representation as it is now. We visit your property or space to take a virtual scan of the space which can be viewed online anytime, from anywhere. 
Our Matterport Pro 2 camera uses Infrared 3D sensors and provides measurements within an accuracy of 1%. Once the space has been fully scanned Matterport's powerful software engine stitches the scanned elements together to create 3-dimensional model which can then be viewed at 4K quality to your customer base anywhere in the world. One of the many benefits of choosing the Matterport scanning system over traditional panoramic tours is the ability to freely walk around the space in a 360-visual aspect. Panoramic tours typically are restricted to viewing from a fixed point and only pan left to right, not allowing the user to accurately interpret the space from all angles. We also use HDR (high dynamic range) which allows us to balance the light and dark areas of a scan without the need for any secondary lighting.
Easy to share online
Our 3D virtual tours are easy to share either by email or integration directly into a website or listing making them great for online marketing.
Easy to label features
Communicate context to specific locations, objects and features within a space with Mattertags, accessed by a simple click of the mouse.
Saving time for estate agents
Potential buyers make an informed decision on a given property before picking up the phone to make an enquiry
Want to discuss a virtual tour with us? Get in touch!
Useful for estate agents
3D Virtual tours are great for estate agents as they allow potential buyers to make an informed decision on a given property before picking up the phone to make an enquiry. As the customer has already been able to view the property in an immersive way the face to face viewing becomes more of a formality.
Build an emotional connection
3D virtual tours allow potential buyers to build more of an emotional connection with a given property than compared with traditional marketing tools such fixed point photography and basic black and white, 2D floor plans. Imagine the ability to sell a property without conducting any viewings!
Saves client and agent time
By using a 3D virtual tour both the buyer and agent don't waste their valuable time as the customer has already viewed the property in an immersive way. The whole process becomes more efficient on both sides, which has the potential to save estate agencies hours of time in viewings, giving more time to focus on committed buyers.
Immersive experience
Our virtual tours have the ability to fully immerse your clients in a property, allowing them to assess any details ahead of time and without any need to visit the property themselves. This creates an experience they will remember, and a better service from the agent themselves. They can then gauge if they are interested in the property more effectively.
Some of the industries we work in
Residential estate agents
3D virtual tours in Bristol for commercial & residential
What we offer
Focus 360 marketing offer a one stop shop approach to all of your marketing needs. With this in mind we are able to produce energy performance certificates for domestic and commercial properties and combine these services with our virtual services in the same site visit. By offering our customers a combined service package we are able to drastically cut down the time it takes you to get your property to market. 48 hours from site visit to receipt to be precise. If you are a agency then please feel free to give us a call to discuss competitive discounts for ongoing arrangements.
Delivery of your virtual tour within 48 Hours of scanning your space
Real world measurements accurate within 1%
Integration with Google Street View (for commercial spaces)
Easy sharing via embedded URL
Our 3D virtual tour process
1. Schedule your 3D virtual tour scan
We work 24/7 to suit your needs and book appointments to suit your busy schedule. Including evening and weekends appointments.
2. The Scan
One of our qualified photographers will visit you at your premises. The scan will take typically between 30 minutes – 4 hours to complete depending on the property type & size, time setting up equipment and access.
3. 3D Scan
Our Matterport camera will scan the space in a virtual world, stitching all of the items together. 3D virtual tours are typically sent within 2 working days from the day of scanning.
4. View your space in a digital world
3D virtual tours are typically sent within 2 working days of the space being scanned and the configuration completed. You will then be able to share and view this tour from wherever you are.
3D virtual tours available across the UK
We are happy to carry out our 3D virtual tours across the UK, regardless of the size or complexity as there is nothing out of our remit.
Want to discuss 3D virtual tours?
Contact us for an instant quote on 0117 287 2899 or email enquiries@focus360energy.co.uk and we will ensure to get straight back to you.
Commonly asked questions about 3D virtual tours
If I want floor plans will you need to revisit?
No, all of our Matterport services can be completed in one visit! Making life much simpler for you and also meaning you can benefit from digital 3D and black and white 2D floor plans of your space at the same time as getting a 3D virtual tour scan. An example of this can be found below. You can also view the floor plans in 3D and dollhouse view if you choose to commission a 3D virtual tours.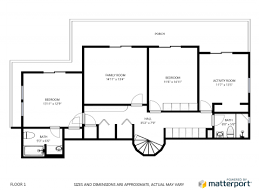 How much does it cost?
The cost varies depending on the size of the property. To find out more about our pricing structure, either give us a call on
0117 287 2899
or email us on
enquiries@focus360energy.co.uk
and we will get straight back to you.
Get in touch to request a free consultation
If you would like to discuss your requirements further, but prefer meeting face to face, please fill out your details and we will get back to you as soon as possible (usually within one working day)